Philip Pullman's His Dark Materials (sometimes shortened simply as His Dark Materials) is an upcoming television series commissioned by the BBC as an second adaptation of the eponymous trilogy of novels of the same name. Philip Pullman will be one of the executive producers of the series.[6] Jack Thorne will be writing the screenplay.[11]
Season 1/Series 1
Edit
#
Episode name
Directed by
Story by
Teleplay by
Original airdate
1
Roger[12]
Tom Hooper
Jack Thorne
Late 2019
2
TBA
Tom Hooper
Jack Thorne
TBA
3
TBA
Dawn Shadforth
Jack Thorne
TBA
4
TBA
Otto Bathurst
Jack Thorne
TBA
5
TBA
Otto Bathurst
Jack Thorne
TBA
6
TBA
Euros Lyn
Jack Thorne
TBA
7
TBA
Jamie Childs
Jack Thorne
TBA
8
TBA
Jamie Childs
Jack Thorne
TBA
Season 2/Series 2
Edit
#
Episode name
Directed by
Story by
Teleplay by
Original airdate
1
TBA
TBA
TBA
TBA
2
TBA
TBA
TBA
TBA
3
TBA
TBA
TBA
TBA
4
TBA
TBA
TBA
TBA
5
TBA
TBA
TBA
TBA
6
TBA
TBA
TBA
TBA
7
TBA
TBA
TBA
TBA
8
TBA
TBA
TBA
TBA
Production
Edit
Film adaption
Edit
After successes of the Lord of the Rings film trilogy, the His Dark Materials books, which were published between 1995 to 2000, were optioned. This led to the development of the 2007 film, The Golden Compass. However, the film removed some of the key areas of the book, like references to religion and the Holy Church, which Chris Weitz (director of the film) blamed for the shortcomings. The Catholic Church called for a boycott, and New Line got spooked. Sam Elliott blamed the Church for forcing the cancellations of the sequels, while some believed poor reviews may have been the reason.
Development
Edit
Philip Pullman, in his 2012 Mother Jones interview, was interested in giving His Dark Materials another shot, this time as a television. The BBC, in November 2015, publicly announced plans to adapt the book series into a television series in association with Bad Wolf and HBO. Pullman was named the series' executive producer along with Deborah Forte.[6]
Pre-production
Edit
Pre-production was originally planned for autumn 2016, with the project announced in 2015, but casting was only in the process of finalisation in early 2018.[7]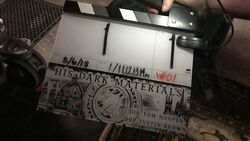 The first series was filmed in both Cardiff, Wales and the Arctic.[7] On 14 December, 2018 it was announced via Twitter that the first series had wrapped.[13]
Series 2 will begin filming in June 2019.[14]
The series will be split into episodes of 8, with the second series awaiting production.[15] The first series will showcase all the events of Northern Lights. Each episode will last an hour.[16]
The release date will be in 2019 as HBO released clips of the show in its compilation of shows coming out in 2019.[17] The show will air in November.[18]
Lyra Silvertongue
Edit
Marisa Coulter
Edit
Lord Asriel
Edit
Lee Scoresby
Edit
Other characters
Edit
Locations
Edit
External links
Edit
References
Edit